Fiber Optic Equipment: Unveiling a World of Limitless Possibilities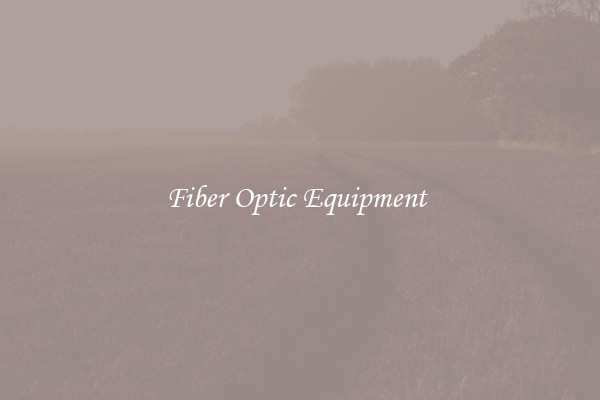 In today's fast-paced digital era, the demand for high-speed internet connectivity has become a necessity rather than a luxury. Fiber optic technology has emerged as the frontrunner in delivering lightning-fast internet speeds, and the backbone of this technology lies in the fiber optic equipment. With its ability to transmit data at the speed of light, fiber optic equipment has revolutionized the way we communicate, work, and access information.
At its core, fiber optic equipment comprises specialized technology designed to transmit and receive data through thin strands of glass or plastic known as optical fibers. These fibers have the remarkable ability to transmit signals over long distances without any significant loss or interference. This unique characteristic of fiber optics has enabled the transmission of data at unparalleled speeds, making it the ideal choice for applications demanding high bandwidth such as video streaming, online gaming, and cloud computing.
The primary components of fiber optic equipment include transceivers, connectors, cables, and switches. Transceivers act as the interface between the optical fiber and electronic devices, converting the electrical signals into optical signals for transmission and vice versa. Connectors, on the other hand, ensure proper connection and easy installation of the fiber optic cables. These connectors play a crucial role in maintaining the integrity of the optical signal, eliminating chances of signal loss or degradation.
Fiber optic cables are the lifelines of the fiber optic network, and their construction is integral to the efficient transmission of data. These cables consist of one or more optical fibers bundled together inside a protective outer jacket. The most common types of fiber optic cables are single-mode and multi-mode. Single-mode cables are suitable for long-distance transmission where the data signals need to travel considerable distances without significant losses. Whereas, multi-mode cables are ideal for shorter distances, typically found in local area networks (LANs) and data centers.
Switches are another integral component of fiber optic equipment, responsible for connecting multiple fiber optic cables and devices into a network. These switches provide the ability to control and manage the flow of data traffic, ensuring seamless connectivity between various devices. Switches come in different configurations, such as unmanaged, managed, and smart managed, catering to different network requirements.
The advantages of fiber optic equipment go beyond high-speed internet connectivity. It also offers enhanced reliability, greater bandwidth capacity, immunity to electromagnetic interference, and the ability to cover large distances without any signal degradation. These benefits have made fiber optic technology the preferred choice across various industries, including telecommunications, healthcare, finance, and transportation.
As technology continues to evolve, the demand for faster and more reliable internet connectivity will only increase. Fiber optic equipment, with its incredible capabilities, is poised to meet these demands and unlock a world of limitless possibilities. From powering smart cities to transforming the way we access information, fiber optic equipment is at the forefront of the digital revolution. And as we step into an era where connectivity is key, fiber optic equipment will undoubtedly play a pivotal role in shaping our future.