Versatile Electric Middle Motor E-Bike With Varying Features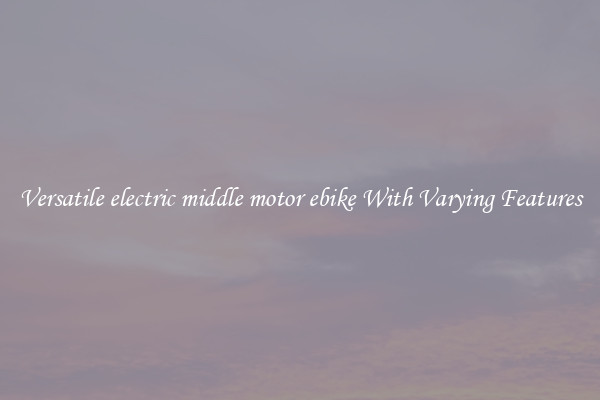 Electric bikes, or e-bikes, have gained immense popularity in recent years as a more sustainable and energy-efficient means of transportation. One type of e-bike that stands out for its versatility and range of features is the electric middle motor e-bike.
The middle motor, also known as a mid-drive motor, is positioned near the bottom bracket of the bike frame, providing a more balanced and natural riding experience compared to e-bikes with motors located in the front or rear wheel. This positioning allows for optimal weight distribution, allowing the rider to maintain better control and stability.
One of the key advantages of the versatile electric middle motor e-bike is its ability to adjust power output based on the rider's pedaling habits and the terrain. This means that the motor can provide additional power when the rider needs it, such as when climbing steep hills or accelerating quickly. Conversely, it can conserve battery power when the rider is pedaling on flat surfaces or going downhill. This dynamic power output ensures a smoother and more efficient ride, improving both performance and battery life.
Another notable feature of the versatile electric middle motor e-bike is its multiple riding modes. Most models come with different power assist levels that allow the rider to choose between a more effortless ride or a more challenging workout. This flexibility appeals to a wide range of riders, including commuters, recreational riders, and fitness enthusiasts.
Furthermore, many electric mid-drive e-bikes come equipped with features such as a throttle, allowing the rider to engage the motor without pedaling, perfect for situations where the rider needs to take a break or navigate through traffic. Additionally, these bikes often have integrated LCD screens that display important information like speed, distance, battery level, and more, providing the rider with real-time data to better plan their rides.
When it comes to battery life, the versatility of the electric middle motor e-bike shines through again. Depending on the model and battery capacity, these bikes can provide a wide range of distances on a single charge, typically between 50 to over 100 miles. This extended range allows riders to tackle longer distances without worrying about running out of power, making these bikes ideal for commutes or longer rides.
In conclusion, the versatile electric middle motor e-bike offers a range of features that enhance the riding experience. From its dynamic power output and multiple riding modes to its extended battery life and convenient features like throttles and LCD screens, this type of e-bike caters to a variety of riders and purposes. Whether you're commuting to work, enjoying a recreational ride, or looking for a more challenging workout, the electric middle motor e-bike can meet your needs while reducing your carbon footprint.